Review: http://www.wishtrend.com/glam/cosrx-aha-7-whiteheads-power-liquid-review/
WHY AHA?
AHA is a wonderful chemical exfoliator. By chemical, I mean none physical, so instead of using exfoliating products such as scrubs and brushes, you simply just apply an AHA product and go to sleep. While you sleep the AHA penetrates into the skin, accelerating you skins natural cell turn over rate, thus creating an exfoliating effect.
AHA's were most commonly referred to as peeling products, but now you can find AHA products retailed as Brighteners, whitening agents, acne scar faders, blackhead eliminators and products for getting rid of whiteheads. Oh, and how could I forget wrinkle reducers :)
HOW IT WORKS?
The AHA 7 Whitehead Power Liquid penetrates into the top layer of the dermis, working to exfoliate away dead skin cells, clearing away unwanted whiteheads, preventing blackheads as well as fading away sun damage, acne scars and pigmentation.
The product contains only 12 ingredients, the most effective being Glycolic Acid, Niacinamide, and apple fruit water. All 3 being forms of AHA.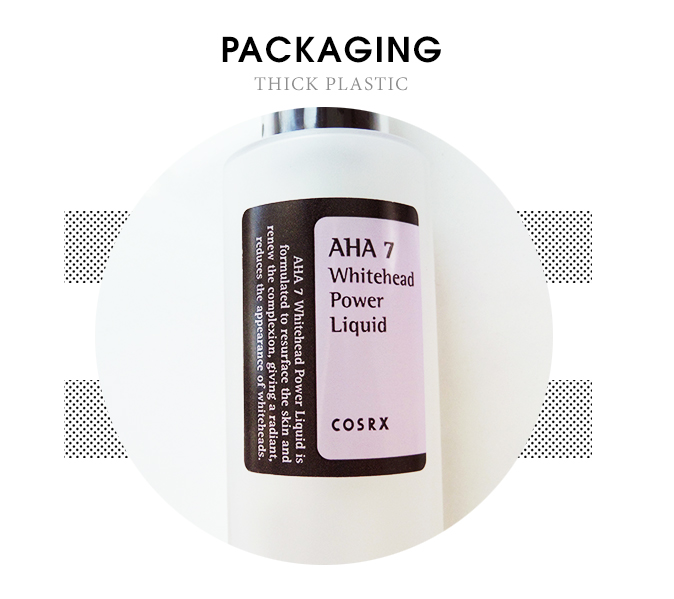 RECOMMENDED
I highly recommend this product to anyone who suffers from surface acne and whiteheads. By surface acne, I refer to small pimples that quickly developed into whiteheads or start off as whiteheads. AHA is a surface exfoliator and does not penetrate super deep in the skin. Making it most ideal for people looking to get ride of whiteheads and sun damage pigmentation and light acne scars.*
This product will help to keep your pores clear, prevent future breakouts while treating current breakouts. If you are looking for an all-around skin perfecting product for flawless looking skin, then this is definitely the product to use!
Take it from my personal experiences, AHA's and BHA's are products that everyone should include in their routine. If you want flawless skin of course ;) *